Accelerate digital transformation with a free cloud tier
While many public clouds provide compute and storage benefits, ThinkOn's multi-tenant cloud allows native VMware deployments without the need for refactoring or retooling your existing workload and applications.
Self-provision compute and storage resources in any ratio that is required for your business needs in a fully compliant cloud solution built on VMware.
By operating as a pool of resources, you gain the advantage of being able to reallocate resources in real time with unlimited scale up and scale out possibilities, so your infrastructure can match the agile needs of your data.
This 30-day, no-obligation free trial includes:
Up to 100 GB of storage

5 GHz CPU and 10 GB of RAM

Virtual firewall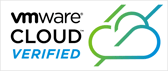 Try ThinkOn public cloud free for 30-days
Migrate, run and secure all kinds of workloads hassle-free

Seamless management
Build, self-provision and manage your virtual machines using ThinkOn Compass cloud console with no license or configuration restrictions.

Principal cloud provider
Build your public cloud solution with a team that has been recognized at the highest level by VMware for a broad range of master solution competencies.

Security and governance
Fully compliant and integrated secure network infrastructure capable of handling all kinds of workloads.